masholand at tallinn university
At the end of Masholand's Estonian journey, the human-computer interaction faculty gave us the opportunity to paint a mural in their university's interior. Considering the functionality of the room (it's office space) and Estonian weather, which is mostly snowy, rainy or gloomy, we wanted to bring some nature, brightness, and a positive touch. As well as that, we wanted to convey the idea of singularity - meaning the connection of two minds by exchanging just thoughts.
Special thanks to Vladimir Tomberg for believing in us, to David Lamas, Daniel Irabien Peniche for the photos and to the entire HCI department for their support. The work in progress and the interview videos will be posted soon.
Tamoonz x masholand
Mziuri park is in the central district of Tbilisi and it has been through a lot in past decades, including multiple floods and the problems caused by human carelessness. The park is surrounded by many Soviet and Post-Soviet building blocks. The inspiration for this collaboration came from the gossips and the curious neighbors, who secretly spy on each other and familiar with everyone's life. Special thanks to Dimitri Mais for photos and Rati Ramishvili for the video.
mojo hotel interior mural
There's a new hotel opening up in Tbilisi. Masholand was asked to paint a floral mural in its interior and we filled it with dragon fruits.
Masholand x Sokkaart x hotline101
At the end of the year, Estonian artists were visiting Tbilisi. Masholand and Sokkaart were happy to spray the city one of those nights.
Marneuli bridge
A very nice people living in Marneuli asked Tbilisi street artists to paint a wall in their city. It was a nice experience to do a mural in a new environment surrounded by nice people.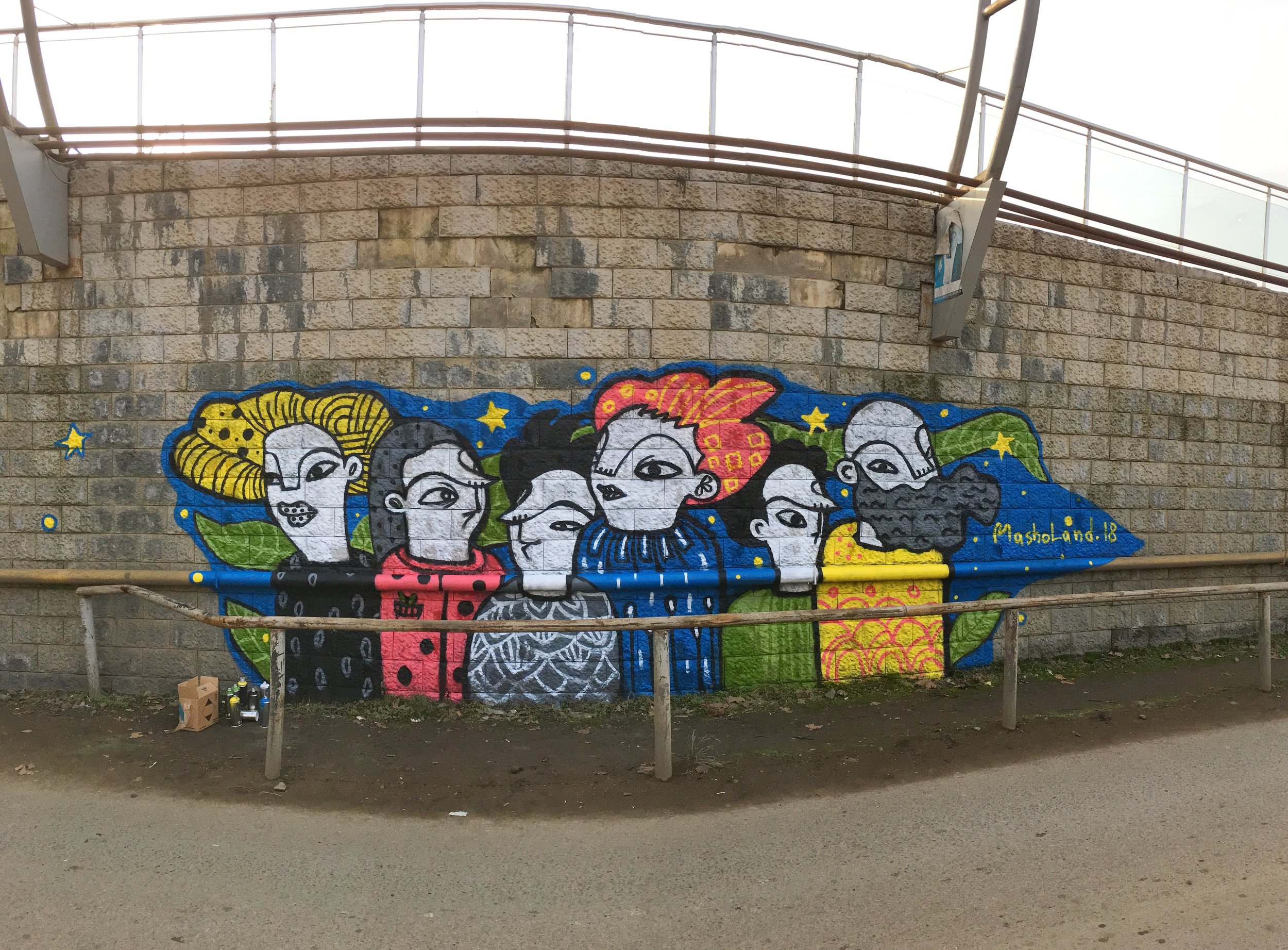 "Niko" street art movement
"Niko" is a new street art movement in Tbilisi, Georgia. Their goal is to gather local and foreign artists and through their support revitalize the streets of Tbilisi and other cities countrywide, to help young artists to show themselves and promote developing street art. As well as that, to revive the grey spaces and add cultural value to the city. Lastly to pin Georgia on the world map of street-Art.
Masholand was lucky enough to be invited to paint in the first "wave" of Niko, so at the beginning of November, I had a pleasure to go back to my city and paint a mural next to the public school. It took 4 days (from the afternoon until the sunset) to complete the wall. You can see the photos of the work in progress and the final results. Special thanks to everyone who helped and supported us.
Photos by Natia Galantia
I painted a mural to refer the deadliest problem in the country
According to the World Health Organization Georgia has the deadliest air pollution (See the article here). No wonder that the most of the population is worried. The government does not seem to take enough actions which make people desperate, but we believe it is important to keep a positive attitude. I painted a mural in the center of Tbilisi and tried to raise awareness from a different angle to get to the ones who ignore negativity.
P.S. The bird behind is not from Masholand.
Meraki Shop window - tbilisi
We were asked to paint a wall of the entrance of a small clothing brand in Tbilisi, Georgia called Meraki. The main character was inspired by Anuka - the designer and a founder of the shop.
a masholander's dream about a traveler
Soon after a collaborative work at the football stadium Masholand went to Surami, Georgia to visit a friend and to leave an interior mural on a way. The painting was inspired by a sculpture of "Ariadne's Dream".
Masholand & Tamoonz collaboration for Saguramo Locomotive stadium
In the beginning of August Masholand had a pleasure to work with a great Georgian street artist TamoOnz on a huge football stadium wall. It was around 270 square meters and after five days our collaborative work was done. The theme for our work was football fans, players and the energy during matches.
Special thanks to the Saguramo Locomotive Stadium administration, to Lekso Topuria, Giorgi Kipiani and to Salome Topuria.
P.S. Do not forget to check out Masholand's new, Global Street Art profile.
Masholanders at GEM Festival 2017
Masholand had a pleasure to travel to Anaklia and appear on "9th Degree Bar" walls even before the festival started. After 2 days and nights of process they finally showed their faces on the surface, just next to the Main Stage.
Special thanks to Jaba Kikvidze, Shalva Mamisashvili and his cousin - Maxo for making it happen.
Fabrikaffitti 2017
This year Dr.Love and Miro made it happen again - organized another urban festival. Masholandese twin embryos really enjoyed this wonderful event.
Welcome to the Jungle
Masholand painted a mural at the courtyard for people suffering from psychical disorders. Special thanks to Ana Khvedelidze, Nick Surmava and Theo Gosselin for making it happen.
Did you know that
A Koi fish could swim on walls and that Dragon Fruits could be used as a form of transportation?
MASHOLAND & TAMOONZ COLLABORATION
MASHOLAND & GAMEZ KAICARTOONS COLLABoration
After "The Piano Project" in Batumi, Masholand and Gamez KaiCartoons decided to do another collaborative project. We found a free wall on my sister's new balcony and we thought it was a right call.
P.S. Some small details are added by my sister Elene too.
MURAL PAINTING AT "ანი-ZET" PRIVATE SCHOOL
Masholand was happy to paint a mural at the private school second floor entrance and to get the best feedback, the one can ever get, from the school kids.
THE PIANO PROJECT
On Friday night Masholand and two other Georgian artists (George Gamez and Lasha Babuadze) were on our way to Batumi. Eastern Promotion is organizing a Black Sea Jazz Festival every year and they ask different artists to paint pianos, so people can play in streets during the season. This time Masholand was one of the lucky ones to be chosen for the project. It hasn't seemed as time consuming as it actually was, but finally we finished 6 pianos in one and a half days. We had fun, we saw the horizon of the Black Sea, met new people and created something nice for the city too.
Fabrika Hostel Interior Mural Painting
A really cool hostel, called Fabrika, opened up in Tbilisi last month - the former clothes factory, now meant to host 400 tourists. The interior is designed by the architecture studio MUA. For more information, check Fabrika's facebook page: https://www.facebook.com/FabrikaTbilisi/
Before the hostel opening, the second floor walls were painted by Masholand and Gamez KaiCartoons (100 square meters each). Masholand separated two walls by the themes: Night and Day. Here are some photos and the videos of the process, as well as the final result:
Masholand's Showroom Mural
FABRIKAFFITTI 2016
On June 11-12 I spent two amazing days, met lots of cool people, next to many beautiful art pieces Masholand's first street mural was created, had loads of fun and all that thanks to the awesome organizers of Fabrikaffiti(the first local urban festival) and the talented participants.
KISSING STICKERS
In June 2015 there was a huge flood in Tbilisi, Georgia. After two months I decided to visit some places in the city (including my neighborhood, which was the epicenter of this natural disaster) and to bring some life to the depressing places with hand-drawn kissing stickers.
See the project on Behance: https://goo.gl/bGRD9l
THE MURALS FOR LEAF
I was lucky to have a chance to work on the interior design and the mural paintings in the Liberal Enhanced Arts Foundation (http://leaf.ge/)