Masholand x TElliskivi loomelinnak

The most artistic district in Tallinn - Telliskivi turned 10 this May and were 10-day birthday events happening. Masholand created 10 illustrations which were used for different purposes during those days: some of the illustrations were used in poster, banner, flyer, menu, and social media designs, others were printed on clothes and even as a black honey labels, one of them was a screen background for the discussion panel and one as the Müürileht (alternative newspaper - http://www.muurileht.ee/ ) cover. The designs were spread all over the old town and the industrial area: you could see them in the cozy cafes, as well as in the streets. The festival got a lot of attention locally and internationally too. The famous Guardian and Forbes wrote the articles about Loomelinnak birthday event and Masholanders appeared on Forbe's page (Tallinn On The Rise: What's New In Estonia's Capital).
It was a great pleasure working with Loomelinnak who gave Masholanders a chance to express their happiness connecting to this amazing celebration and be a medium to spread the news.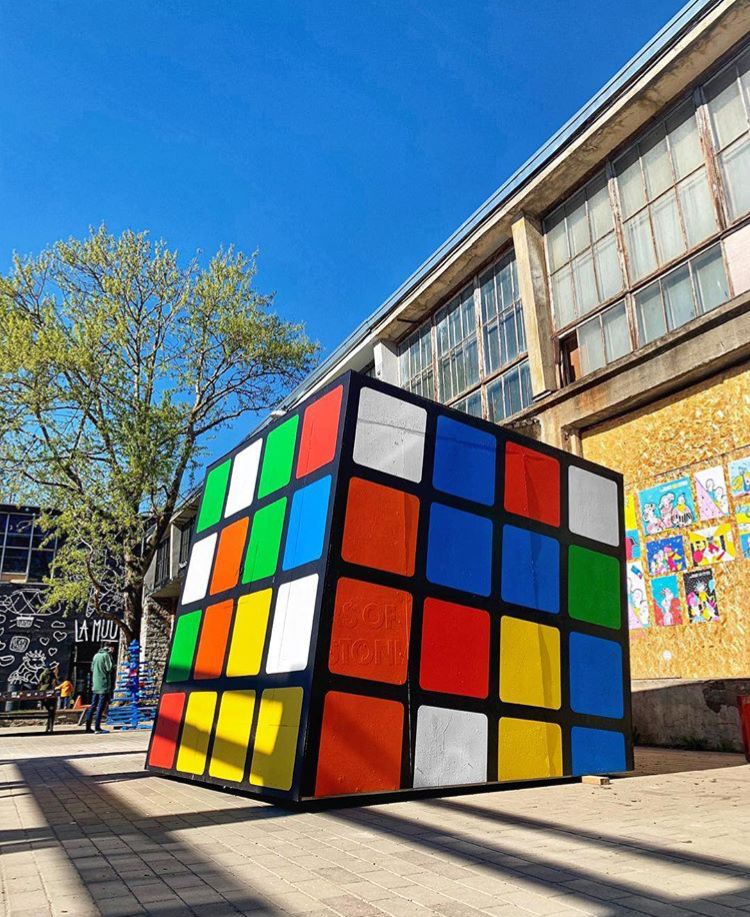 Masholand x RATI
RATI is a Georgian electronic music artist and Masholand's friend since our last collaboration on Mzesumzira Record's album Vol.2 cover illustration. This image was inspired by RATI's music and personality, which was later decided to be the logo for his personal brand.
Masholand x tbc bank insurance
In the winter, the TBC Bank Insurance had a campaign called #mistakesareok (#შეცდომებიმოსულა - https://mosula.com.ge/). They were asking people with different backgrounds to think about their mistakes and describe them in their own way. For Masholand, at first it was difficult to come up with one distinguished mistake, as we make so many of them, but finally, we decided to illustrate something, that happens to most of us and is a bit silly and sweet at the same time.
Masholand x Mzesumzira records
Masholand had a pleasure to collaborate with Mzesumzira Records for their Vol.2 Album cover. In this album, you will hear three Georgian electronic music artists: Gabunia, Kohf, and RATI. Mzesumzira Records is created by the same team as the Ezo festival, which is one of our favorite music festivals in Georgia. Check out the album here.
Masholand x Cheeseboat
In Williamsburg, Brooklyn there is a small cool restaurant serving different versions of Georgian traditional food "Acharuli Khachapuri" - Cheeseboat (Check them out here!). Lately, there has been a fuss about this delicious cheesy food and restaurant in NYC. Even New Yorker and insider was talking about them. So, with the help of social media, they got hold on Masholand and asked us to collaborate. We had a tone of fun creating illustrations to express the diverse societies in Brooklyn and their love of CheeseBoats.
Masholand & GEM fest
Masholand was asked to create the map for the electronic music festival GEM (Anaklia, Georgia), which had to be printed and displayed online (with zoomed version) for the visitors to find all the necessary information. As the main theme of the brand was gems, we decided to use semi-transparent and gradient colors. The isometric view was chosen for the buildings. After much time-consuming work, here is the final result:
Masholand & Geoposter
Bakuriani is a resort in Georgia, where thousands of people visit monthly to relax, ski, hike, or simply breath the fresh air. Masholand was asked by Geoposter to make an illustration for this wonderful place, where you can get by the old train. The tricky part was that Masholand has never been in Bakuriani in winter, but the client wanted the poster to be about the winter. So, by imagining the place in winter, seeing many of our friends' photos, and adding the vintage vibe, the poster was finally inspired and ready.
Masholand & TBC bank
TBC bank has given me a chance to participate in their two cool projects #წერექართულად and #გამარჯობა . Because of them, Masholand is on the first and 8th page of the New Year calendar. As well as that, Masholand designed t-shirts are available for the large audiences. (Purchase t-shirts: http://goo.gl/ZByTXX) (More about the calendar: http://goo.gl/mLZilu)
Moreover, Masholand designed a couple of things in their Marketing office interior. Don't forget to check out the video below.
Masholand in TBC bank's marketing department.